Antelope Valley Fair- PGMC Booth - 2018
The 80th Antelope Valley Fair and Alfalfa Festavle is officially over. The Palmdale Gem and Mineral Club Booth was a big success in the Foyer of the Van Dam Pavilion (Home Arts Building) We had available Lapidary Arts made by members on display and Demonstration involving the some of Lapidary Arts each day from 4:00 PM to 8:00 PM PDT. Knowledgeable PGMC Members were available to answer questions about the Palmdale Gem and Mineral Club and the Lapidary Arts. We welcomed your questions and had available membership information. For more information please use the "Contact Us" page.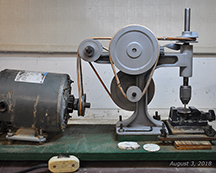 The Antique Rock Drill Press was in action, 4:00 PM to 8:00 PM Daily. Other Lapidary Arts will be demonstrated. Beading, Cabochon, Lap Polishing and others. The booth had Labidary Arts made by Club Members for sale to support our Scholarship Program.